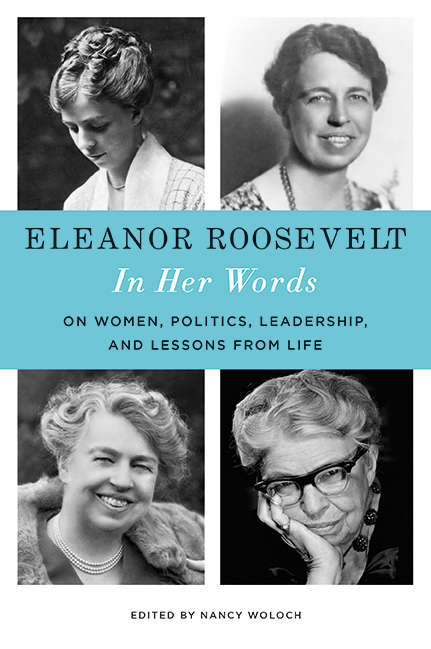 Nancy Woloch, Research Scholar in History, published a new edited volume entitled Eleanor Roosevelt: In Her Words on September 5, 2017 (Black Dog & Leventhal Publishers, Hachette Book Group).
This illustrated, first-of-its kind collection from Eleanor Roosevelt's writing, speeches, and letters speaks directly to the challenges we face today. Acclaimed for her roles in politics and diplomacy, Eleanor Roosevelt was also a prolific author, journalist, lecturer, broadcaster, educator, and public personality. Using selections from her books, columns, articles, press conferences, speeches, radio talks, and correspondence, Eleanor Roosevelt: In Her Words tracks her contributions from the 1920s, when she entered journalism and public life; through the White House Years, when she campaigned for racial justice, the labor movement, and the "forgotten woman"; to the postwar era when she served at the United Nations and shaped the International declaration of Human Rights.
Woloch's op-ed "What Would Eleanor Roosevelt Tell Us?," has been published in both the History News Network and TIME.  
On what would have been the First Lady's 133rd birthday (October 11), the Smithsonian Magazine interviewed Woloch on Roosevelt's enduring influence. Says Woloch, "A number of decades have gone on, and I found her journalistic voice very clear, very startling, and direct. She started writing about civil rights so early, in the 1930s. I am pushing further into her work and there is a denunciation of 'America First.'  Everything with Eleanor seemed unusually to speak to the present day."