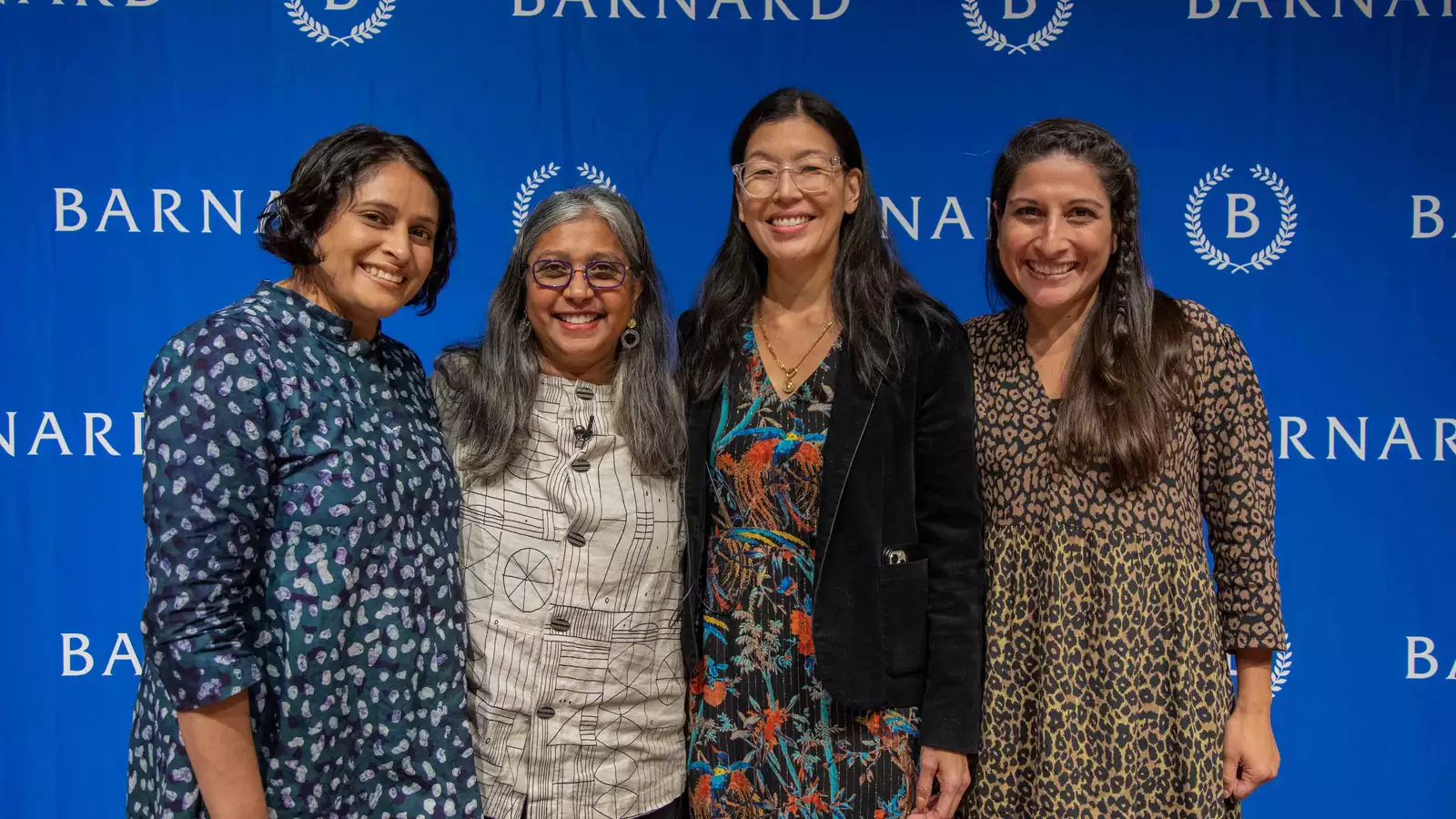 Back in 2009, the year before celebrating her 95th birthday, renowned Detroit organizer Grace Lee Boggs '35 told Democracy Now she felt that human beings were "devolving," instead of evolving, and that "the only way to survive is by taking care of one another." Ai-jen Poo, president of the National Domestic Workers Alliance, has worked toward Boggs' vision of community care for decades. On October 12, Poo delivered the inaugural Grace Lee Boggs '35 Lecture keynote speech and sat in conversation with Barnard professor of history Premilla Nadasen about her advocacy work to secure a fundamental right to care for everyone.
"The only way to survive is by taking care of one another." —Grace Lee Boggs (2009) https://t.co/fo7ed1PQMX

— Grace Lee Boggs (@GraceLeeBoggs) March 30, 2021
"I work to bring people together around their common concerns and common dreams, to create the context for people to build trust and community and exercise their power together to move closer to their dreams," Poo said in her opening remarks. "[For example], the home-care workers who are responsible for upholding the dignity of the people who raised us and gave us life. It's the work that is fundamental to every aspect of society. And that is because it's fundamental to human life. Without it, nothing else is possible." 
An award-winning organizer, author of the celebrated 2016 book The Age of Dignity: Preparing for the Elder Boom in a Changing America, and a leading voice in the women's movement, Poo wears many different advocacy hats in the push to improve the lives of caregiving families. She's president of the National Domestic Workers Alliance, director of Caring Across Generations, co-founder of SuperMajority, and a trustee of the Ford Foundation. The recipient of numerous awards, including the 2014 MacArthur "Genius" Award, Poo is a leader in the worlds of elder and family care, the future of work, gender equality, immigration, and grassroots organizing. 
As Poo put it, being the first speaker for the Grace Lee Boggs '35 Lecture series was special. She took some of her favorite classes at Barnard when she was a gender studies major at Columbia, and her sister graduated from Barnard, Poo told the audience. "So roots [remain] for me here," she said.
Umbreen Bhatti '00, Director of Athena Center for Leadership, introduced Poo for the event, which was hosted by the Diversity Council, Office of DEI, Barnard Center for Research on Women, and the Athena Center for Leadership. Read excerpts from Poo's speech below, which were edited for length and clarity.
On her home-care origin story
"This work of valuing the caregiver has led me to focus on caregiving families, the people in need, the services, and their care, whether they're older people or people with disabilities, family members. … We're navigating the need for care for the people they love. I was raised in an intergenerational Chinese immigrant family. My grandparents played a really strong role in raising me and my sister. My grandmother taught me my values, and core to those values are to honor my elders and take care of my older sister. We grew up watching my grandfather do tai chi in the driveways in the mornings. 
"Right after my grandfather turned 90, his vision started to deteriorate very quickly. My father couldn't find appropriate care for him in the home and placed him in a nursing home against his wishes. He shared a room with five or six other people, the food was unrecognizable, and the direct care workers were overworked and overwhelmed. My grandfather became a shell of the person he was and passed away within a few months. 
"My grandmother, on the other hand, had the support of homecare workers as soon as she became frail and needed assistance. She was active, engaged, involved in our lives, and in the community. She was able to stay at home until the very end because of the caregiving that she received from professional care workers and from my mom. The reality is, my grandmother got lucky. But the truth is, in our country, we don't have the infrastructure in place to support us to care for the people [we] love." 
On the reason she organizes
"As a young woman living in New York City, it wasn't hard to see how many women of color [were] holding up the city with their care. They are the most visible-invisible workforce — women of color pushing white babies in strollers, taking them to the parks and playgrounds, or accompanying older people in wheelchairs to their doctor's appointments. I began organizing with domestic workers in 1998. Listening to their stories, I heard about how difficult the work is, how little respect there is, how there are no sick days or holidays, no recognition that they have their own families to care for, on wages so low that they work incredibly hard and still can't make it work. 
"So we began to organize to pass new laws to establish rights and protections for the workforce. And we quickly realized that the lack of respect for worker caregiving was not just the lack of respect of individual families. It's deeply embedded in our laws and in our culture. In the U.S., this work has always been associated with women and as a profession, with Black, Indigenous, and immigrant women. Many of the first domestic workers in the U.S. were enslaved African women, and many of our Asians labor laws explicitly exclude domestic workers from equal protection, a decision driven by racist Southern Dixiecrats in the 1930s, who wanted to ensure that Black workers could not achieve equal economic opportunity. So my work, together with a growing movement of domestic workers and caregivers over the last 20-plus years, has sought to address these exclusions, has sought to address the cultural devaluing of this work, and we're part of a long, proud history of domestic worker organizing in this country."  
On what's next in support of homecare
"As the United States ages, with 4 million baby boomers turning 65 every year, 10,000 people per day, and then 4 million babies born per year, we need more care than ever before. And we must build an infrastructure to support families across the life span, including caring for our elders.
"At NDWA and at Caring Across Generations, we have a vision for what we call Universal Family Care. A vision for a national care infrastructure that we all contribute to building, that we all benefit from. That helps us pay for childcare, paid family medical leave, and long-term care for older people, for people with disabilities, [and] basically everything we need to care for the people we love … with enough funding to ensure every job in the care economy is a living wage job in a union, with benefits and real economic security."